KILLINEY CENTRAL PARK MALL CHIPPENDALE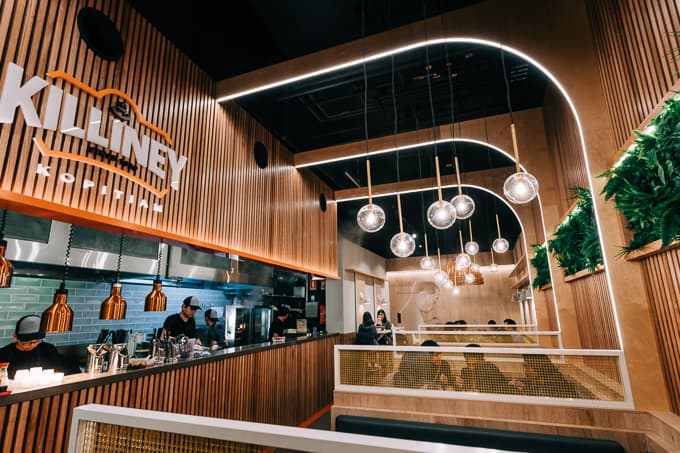 In Short: Kopi-Tiam is a Chinese Hokkien dialect word for Coffee Shop and Killiney is a famous chain of Kopi-Tiams, whose first shop was located in Killiney Road Singapore, in 1919. Fast forward a 100 years later, Killiney has now branched out to all over Asia and they have now opened their first shop in Sydney as well. The food in Killiney's menu is a tribute to Singapore's rich food culture and heritage and having a meal there is like taking a walk down memory lane, where each item in the menu is carefully curated and prepared with care.
For half of the team, our ears are always to the ground ready to jump on a restaurant featuring food from Singapore and Malaysia, our countries of birth. Add to that, when it has a name synonymous with Singapore coffee houses like Killiney Kopitiam, it is guaranteed that the team would be there on opening day to sample the food we so love and clamour for. What you get at Killiney is a variety of dishes done very well. Sure, if you scoured the hawker centres of Singapore you could perhaps find better laksa, or a divine, pork lard laden char kway teow but here at Killiney Kopitiam all the favourites of the peninsular are housed under one roof.
The concept of the store which is located in Central Park Mall in Chippendale is similar as to what you're now seeing  at Mcdonalds with a self service machine with all the menu items. You order, grab a seat and within minutes food will be served. Now, for a warning. Seeing that this is the first Killiney Kopitiam outlet in Sydney, there is a excitement and fervour  as many Singaporean and Malaysian expats crowd the store to taste the flavours of home. With just two terminals, it can get be an exercise in patience to experience Killiney Kopitiam's offerings. On opening day, food quickly sold out at lunch time and when we arrived for dinner which re-started at 6pm, the queue at 5pm was long. In time, no doubt it will settle but if you chose to go right now, you have been warned.
We ordered up a feast, and what I found amazing was the speed of service. Within a few minutes of sitting down our table was covered with plates of steaming hot food and aromas of south east Asia. Without much prompting I dived straight into my chicken laksa. It was a thick gravy with a decent chilli base. Nice chunks of chicken and tofu filled the bowl. There were two types of noodles. A thicker yellow egg noodle and glass like vermicelli thin noodle. There was a fragrant aromas filled with lemon grass and rich coconut flavour of the gravy. It's an stomach filling bowl that has bags of flavour.
Good thing I had a done a workout earlier in the day, as I  was giving it all back with dinner. Even though kaya toast is predominantly a breakfast staple in southeast Asia, the glutton in me could not resist trying Killiney Kopitiam's calling card. To say I adore kaya toast, may be understating things. It's that delicious if a little naughty breakfast treat. The grilled toast is lathered with the kaya(coconut jam) and squares of butter. It's aromatic, sweet and rich, and utterly delicious. While I love it that way, Mavis likes to add a half boiled egg to the mix. With a dash of soy-sauce and a sprinkle white pepper to the gooey egg and it all mixed in together, it makes for utterly delicious foodie moments.
Anyone can make a good chicken rice dish, but to make one that is worthy of being hailed as one of Singapore's national dish is no mean feat. Being of Hainanese descent, Hainanese chicken rice is one of those dishes that Coco and Viner Mavis has eaten so many variations and have high regards for. In fact, no visit home to Singapore is complete without a visit to her poh poh's(grandmother) residence for a plate of chicken rice.
Killiney's version of famous chicken rice comprises of well-seasoned rice, flavoured with garlic and other aromatic, cooked in chicken stock for maximum flavour and garnished with sprinkles of fried shallots on top. There is also the white poached chicken on the side, which is tender and juicy, served on a bed of beansprouts, and a bowl of chicken stock. But the most important element of the dish, is actually the chilli sauce which the chef provides in its own little ramekin . For some people, the chilli is so important that it is the deal breaker in what constitute as a plate of good chicken rice. Killiney's Hainanese Chicken Rice ticks all the above boxes and it's a delicious plate of food that even little Coco and Viner Sammi approves.
There are many variations of prawn noodles dishes. There is prawn mee soup and prawn mee dry, but one of our favourite versions is the Hokkien fried prawn noodle. In Singapore, a good alone is hard to find, much less outside of Singapore . True be told, one of the best we have had in Singapore is actually at the Old Airport Road Hawker Center which fortunately for us is directly across the road from where Mavis' mother-in-law lives, yummy times! Now that Killiney has landed in Sydney and one of their feature dishes is Hokkien fried prawn mee, we can finally have access to frequently savour this flavourful noodle dish ! The noodles is actually a combination of 2 types of noodles, rice vermicelli and yellow noodles. The secret to a good Hokkien fried prawn mee is actually the stock, which is traditionally made by cooking prawns and pork ribs, together with many other ingredients, for many hours to build the flavour from the prawns and bones of the pork.  Killiney's Prawn Mee has good balance of sweet and rich flavours, which is a pointer to the quality of the stock. Besides a good amount of prawns and squid slices, is the inclusion of a generous portion of egg fried with the noodles, which might come as a surprise to you, but it is actually my favourite part of the dish. One recommendation is to go to the condiment counter and get some of the chilli sauce and mix it in with the noodles. It goes really well with the dish and just elevates it to the next level.
What makes Killiney stand out from other Asian cafes is that it has a a history and story behind it. Some of the items in the menu, like the kaya toast and eggs were actually part of the original 1919 menu and are still served today 1oo years later ! This is a testament that some times, its the simple things in life that will stand the test of time and while we are spoilt for food choices in this day and age, sometimes, we just want to go back to basics and have some traditional comfort food that taste just like how our parents and ancestors would have cooked and served it.
Essentials:
Killiney Kopitiam
Address: Central Park, 28 Broadway, Chippendale, Sydney
---